It's the end of an era in
professional Rocket League
. Earlier this week, captain Cameron "Kronovi" Bills departed G2 Esports after more than two years and five Rocket League Championship Series seasons. Kronovi's former iBUYPOWER Cosmic roster joined in September 2016 after winning the first RLCS championship, and after a rough season, G2 rebuilt around Kronovi by adding Jacob "JKnaps" Knapman and Dillon "Rizzo" Rizzo in February 2017.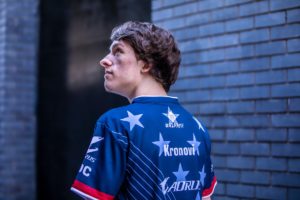 Credit: G2 Esports
They've had an up-and-down couple of years, punctuated by huge highlights like taking the first ELEAGUE Cup and winning the North American region in RLCS Season 5. However, they also failed to win a series at both of last year's RLCS World Championships, and it was their last-place finish at November's Season 6 World Championship that set in motion the plan to bring in Evil Geniuses' Reed "Chicago" Wilen to replace Kronovi. Within hours, Kronovi's new home was revealed: he has joined Rogue and will play alongside Nicholas "Wonder" Blackerby and Austin "AyyJayy" Aebi, formerly of FlyQuest. In an interview this week, GINX spoke with Kronovi about leaving his longtime team, being blindsided by the news, and why he thinks his new teammates are "absolute showstoppers".
Odd man out
Before the news was a surprise to most Rocket League fans, it was a surprise to Kronovi, as well. As discussed on his Twitch stream this week and confirmed by Rizzo on Reddit, Kronovi's former G2 teammates began considering a new third player for the team following November's rough World Championship performance. Kronovi first found out about it from another team's manager, rather than directly from his own teammates. "Over the offseason, I found out that the guys wanted to try something new. As things went on, I realised that it was probably better for everybody if they got to pick up somebody else and I looked around for some new teammates," he says, adding that he didn't get as much explanation or justification as he'd hoped to hear from Rizzo and JKnaps. "They really just kept feeling like something needed to change for the sake of change, not that it was necessarily anybody's fault," Kronovi continues. "It was just that we just were not meshing together and something needed to change, and I was the odd man out."
As we welcome fresh blood, we must bid farewell to @KronoviRL. He was a dear part of our organisation and we'll always be grateful for his time leading the team. We wish him best of luck for the future.

Thank you, Captain: https://t.co/XKXhzbcQYapic.twitter.com/uEQEPSWORA

— G2 Esports (@G2esports) January 7, 2019
Even with two huge streaming personalities in the mix with Kronovi and Rizzo, and JKnaps' admitted attempt to leave following their spotty first RLCS season together, G2's roster always stressed that they had a positive and constructive relationship together. Even now, Kronovi says that his departure wasn't a matter of long-term personal frustrations or disagreements that swelled to the point of bursting, but rather that G2's lagging LAN performance last year was the likely culprit. "I think this World Championship definitely solidified some of the thoughts and feelings that the guys had. 2018 was not the best year for our LAN showings. The only thing we had that was really good in 2018 was Leipzig at the very beginning of the year," says Kronovi, referring to their runner-up finish at DreamHack Leipzig. "Everything else at LAN kind of sucked, to be honest. Online, we were still monsters, and I'm very proud of that – we just didn't really translate it to LAN very well," he adds. "It was something that I wanted to continue to work on because I thought we had the online thing down. But the guys just thought, because the LANs didn't go amazingly in 2018, that something had to change."
An awkward exit
Kronovi says he's not upset about his former teammates' desire to try out a new third; he understands the drive to be the best and make changes when it seems necessary. His initial frustration stemmed more from hearing about the plans from a third party and then having to prod his past comrades for details before getting a satisfactory response.
Credit: Jennika Ojala/DreamHack
"I'm not offended that somebody wants to be the best at a video game. I'm just as competitive as they are; I get it," he says. "Respect to them for eventually talking to me about it. I had to inquire a little bit and extend the first hand in communicating all of this, but I'm glad they were at least open enough with me to not just give me the cold shoulder and let G2 professionally give me the middle finger." Understandably, things are a bit awkward with his past teammates right now. Rizzo posted his side of the situation on Reddit and said that he privately apologised to Kronovi for how it all went down; Kronovi acknowledged it on his stream and said, "Rizzo's apologised for that, so I can forgive him." "Things aren't as good as they could be," Kronovi tells GINX about the situation with his past G2 teammates. "The way I found out wasn't the best. I didn't really find out any of this was happening from them; there was a bit of miscommunication from the start. Things are a little bumpy. There's room there to build a healthy and friendly rivalry – we'll see how things go. I think that's probably the road we're headed down, but right now things are just kind of weird. Our first few matches against each other on our respective teams are going to be pretty good grudge matches." Kronovi's departure from G2 follows the signing of a multi-year extension last summer. All three members signed at the same time, signalling confidence from the organisation in its long-running team, and also confidence between teammates that sticking together was the smart move. As recently as November, before the World Championship, Kronovi suggested to Red Bull Esports that the roster was "not going to change for a while." He believed in that commitment to sticking out the tough times but now claims that his teammates did not. "I really thought that the symbolism in the guys signing a long contract with me meant that they saw a long-term future – that it was always going to be about hard work and putting the time in, and if something isn't right then you go into the lab and fix it," he says. "But that obviously was not on their minds."
Rogue revival
G2 has quickly become the past for Kronovi – now he's focused on Rogue and their future together. Rogue's previous roster had seen diminishing returns in recent seasons and finished 7th in NA in Season 6 before losing in the promotion tournament to drop into the Rival Series for next season.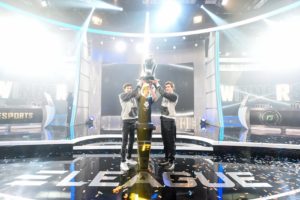 Credit: Psyonix
Rogue had lost its RLCS spot, but it bought a second chance by acquiring FlyQuest's RLCS roster in late December. Wonder and AyyJayy came over in the deal, dropping striker Ronin "PrimeThunder" D'Auria in the process. The core "Wonder-Thunder" duo had elevated that squad from the bubble to the Rival Series and ultimately into the RLCS, but according to a TwitLonger explanation from Wonder, he believed that their defence wasn't strong enough to elevate them into the top tier of the RLCS. That's why they dropped PrimeThunder, he suggests. Now Kronovi will fill that third spot on the team. Early on in the RLCS, Kronovi himself was known as an aggressive striker, but he's become a much more complementary player over the last few seasons and willing to take a backseat to his teammates as needed. He thinks that he'll be able to elevate his new Rogue allies in their collective pursuit of greatness.
We at Rogue are extremely excited to welcome our Rocket League lineup for 2019!

Let us know what you think! pic.twitter.com/WsNxHaMcgu

— Rogue (@Rogue) January 7, 2019
"Evil Geniuses wanted to give me a tryout, but I had my eyes on Rogue from the start," says Kronovi. "I think Wonder and AyyJayy are severely underrated in the RLCS. At the same time, they were also looking for a teammate with a similar philosophy to them, and someone who is really going to allow them to shine a little bit more." It's early still, however, and Kronovi admits that they haven't played much together just yet. At least they kicked things off with some rather eventful scrims. "Ironically, my technical tryout and very first scrim with AyyJayy and Wonder was against G2 with Chicago. My very, very first matches with them, and those went fairly even – it was actually super close between us. That was a good feeling," he says. "It wasn't an amazing home run, but it wasn't terrible either. I was always worried that I'd get moved to a team and try to fill this void because they lost a player, and I just would not be the right fit for that void." "But I'm learning my place with AyyJayy and Wonder, and I'm just excited for what they have to bring to the table. I think they're absolute showstoppers," he adds. "I have a lot of respect for them, and I think they're a team where if you put a little bit of honest hard work in, you'll reap a massive reward."
A new era
Rogue will quickly have opportunities to show off this new lineup. While Season 7 of the RLCS still hasn't been announced, the event schedule already looks heavy for 2019: the $100,000 WSOE 4 Rocket League tournament takes place in Las Vegas later this month, while the $100,000 DreamHack Leipzig tournament is in mid-February. That's why we're seeing a flurry of roster moves right about now, as teams firm up their rosters before LAN qualifiers.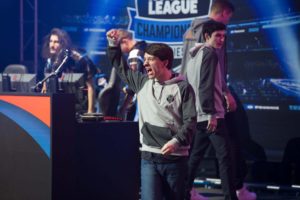 Over the last three RLCS seasons, North America has largely been a three-team race between Cloud9 (current World Champions), NRG (current NA champions), and G2 (previous NA champs), with Evil Geniuses emerging as a solid fourth last year. Now, however, Kronovi believes that this new Rogue roster will leapfrog EG and push for a more competitive Top 4. "I really have high hopes for playing with AyyJayy and Wonder, and I think with the Chicago move, G2 is probably still just as strong," he admits. "It's not a Top 3 anymore, it's a Top 4 – it's really going to be a four-horse race for the top seed." After spending the vast majority of his career under the G2 banner, it's going to be odd to see Kronovi repping and blue and black of Rogue – not to mention playing alongside his first new teammates in two years. For any hard feelings about how his exit occurred, Kronovi seems genuinely happy about the opportunity for a fresh start and another chance to prove himself. "It's the end of an era, but for every end of an era, there's a beginning of a new one," he says. "I think this is a really, really good chance to continue to cement myself in this scene. I've been tested time and time again, whether I can stand the test of time, and this is simply another test on that road. I really want to make this a highlight. No matter what, I'm going to be here playing Rocket League."