We Dem Girlz has had quite the journey in the
Rocket League
Championship Series over the last two and a half years. Formed ahead of the first season in 2016, they helped shape the early competitive meta with solid rotations and overwhelming backboard passes. Signing with Northern Gaming before the finals, they finished 3rd in the world and repeated the feat the next season. And at Season 3's World Championship, Northern Gaming finally won it all. Crowned RLCS champions, the team quickly parlayed that victory into a larger organisation and signed with Team Envy, but success didn't stick for long: with a 1-6 record, they missed the playoffs in Season 4. Following an offseason roster swap, they improved to 3-4 last season and made it back to Worlds, but only mustered a 7th-8th place finish. In the offseason, EnVy pulled out of pro Rocket League, leaving the team without an organisation.
Remkoe (center) and EyeIgnite (right) are trying to build upon the team's Season 5 uptick.
Now the We Dem Girlz name is back after five seasons, and while only captain Remco "Remkoe" den Boer is still around from the start, their strong 3-1 start is bringing back vibes from the team's glory days. The name might be old and familiar to longtime Rocket League fans, but this revamped lineup makes for an exciting team that's ready to fight for EU dominance now and into the future.
Making moves
Following June's Season 5 RLCS World Championship in London, Remkoe says they'd discussed a new deal with Envy—but ultimately, the organisation decided to shift its focus towards North American teams and centralise its esports efforts in that region. "We got released after we were told that their main investors didn't want to continue with European teams moving forward," he explains. "Salaries have risen by quite a bit in the past year, and while Envy gave us an offer that stood for a week or so, they decided it wasn't a good idea to invest more in a European team for the foreseeable future afterwards." Left without an organisation as the RLCS roster cutoff approached, Remkoe reached back for the last team name they'd used before signing with Northern Gaming back in 2016. "[It was] more of a rushed team name when we realised we weren't gonna be signing an org before the season started," he says. "Didn't really feel like thinking of another team name, and I'm sure there would be some longtime fans that'd appreciate the return of We Dem Girlz."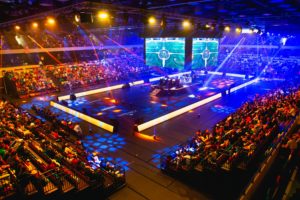 When Remkoe announced the Envy release, it wasn't the only big piece of news he had to share: they also decided to part with David "Deevo" Morrow, who joined in season three and took the MVP medal for his contributions towards the World Championship win. Deevo's explosive offense and jaw-dropping skills were in full effect back then, but amidst Envy's decline the following season, there were whispers that he wasn't playing and practising as much. For his part, Deevo suggested last season that college obligations had gotten in the way; but after another season of results far removed from the World Championship success, Remkoe decided to make a move. Deevo has since formed the team Savage! in the lower-tier Rocket League Rival Series, where they're currently in 3rd place at 3-1 and fighting for a shot at promotion into the RLCS. "It felt like it was something we had to do. I'm sure he would agree with the fact that he had lost a lot of motivation over the seasons to stay at the top in the game," says Remkoe. "I'm really happy that he's been doing well with his new team and still has a passion for competing. It's great to see him do well, but it didn't look like it was going to happen if he stayed on our team."
Upgrade confirmed
Enter Otto "Metsanauris" Kaipiainen. Metsanauris had already proven himself an elite Rocket League player with his last team, compLexity, which finished 3rd last season at the World Championship and 2nd the season prior (under Method).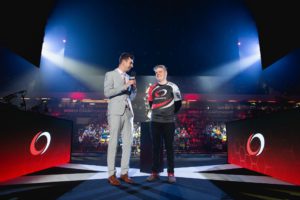 Metsanauris was a key part of compLexity's success, but now he has a fresh start with WDG.
That team's unusual approach found captain Linus "al0t" Möllergren playing predominantly upfield and cherry-picking passes for goals, while Metsanauris and Joonas "Mognus" Salo typically played a bit more back. It worked very well for compLexity, but after missing a return trip to the grand finals last season, they decided to make a change and release Metsanauris. With compLexity adding ex-Envy sub Marius "gReazymeister" Ranheim in his place, the addition of Metsanauris to We Dem Girlz was like a clean swap. And he welcomed the chance to start anew with fresh teammates. "This was the only team I tried out for, actually, and I'm pretty sure I was the only player they tried out as well after Season 5. This team felt like an instant fit, and I see so much potential in EyeIgnite and Remkoe," says Metsanauris. "I also felt like I would be what the team needed to get better, and it gave me a fresh start, honestly, after struggling last season with my role in compLexity." Remkoe agreed that Metsanauris could be a better fit for his and Jordan "EyeIgnite" Stellon's play styles, and believed that Metsa's disciplined play would also be an upgrade. He's already seeing the results of the improved teamwork. "Metsanauris knows how to play around his teammates very well, something that both Deevo and EyeIgnite need to look for in a team," suggests Remkoe. "Metsanauris has great comms and awareness of where his teammates are, which leads to some passing plays we never did before. Someone with a more controlled play style was something we were very much lacking in previous seasons." EyeIgnite helped lead Envy's resurgence when he joined last season, bringing some rookie energy and enthusiasm into the roster, and he says that Metsanauris has already done so much to help take We Dem Girlz to yet another level. "Metsa brings a lot of things to the team we just didn't have before. He's unbelievably positive about everything, which I love, and he's just such a solid all-around player: he can do whatever you need him to do. I love his versatility and how easy it is to play with him. Our team environment has definitely improved since he came onboard," says EyeIgnite. "I don't think I've ever had a team put this much effort into really trying to improve together and become just a better unit in general."
The test ahead
It's clearly panning out in the results. We Dem Girlz took down FlipSid3 Tactics in week one and then rolled over compLexity with a 3-0 sweep—something that Metsanauris admits had extra meaning after being dropped in the offseason. "It's satisfying to win anyone in RLCS, and the win against compLexity felt special for me," he says, "but they're still my friends and I wish the best for them as well." A loss to the otherwise-struggling Paris St. Germain was a surprising anomaly, but We Dem Girlz bounced right back and swept Fnatic last weekend to get to 3-1 and second place in the region. Of course, the squad that currently occupies Europe's top spot is none other than Team Dignitas, the reigning back-to-back champions and undisputed best team in Rocket League. We Dem Girlz' schedule only gets harder in these last weeks, too, as they'll face the other teams in the Top 4: Mousesports this weekend, and both Dignitas and Renault Sport Team Vitality to finish the regular season. It'll be the truest test of this team's newfound chemistry and resolve, as well as their ability to come together to take out Europe's top squads. But emboldened by their strong start, they're not fazed by the challenge ahead. And if they succeed, then we might see the We Dem Girlz name stick into the postseason, as Remkoe suggests an org signing isn't imminent. "[I'm] extremely confident," says EyeIgnite. "I mean, I'm always confident regardless, but this season is different. I feel like we really are on par with the best of them, and if we keep up our current work ethic, we'll be good." "As long as we play our own game and play the best we can," Metsanauris surmises, "I feel like no one can beat us." All images courtesy of Psyonix.